Introduction
My girlfriend had one of those old $100.00 Caldor dressers, and it was falling apart. When I bought her a new one, she wanted me to throw it away, but I had better ideas.

My apartment is very small and I need to utilize every bit of space. As a result, my computer table needed to hold just about everything that I use every day, and this is why I needed to add shelves and every other idea I could think of.
The Modifications
The Image on the top is the catalog picture, and mine is on the bottom.
I know, it's a cluttered mess, but it's not like I have a choice, right? Here are the mods up close.
I put a Nail in next to the monitor so i can hang my headphones up.
I built a paper holder and stuck it on the right hand side. Since I have all different kinds of paper, this was a must have, rather than just a big pile of paper.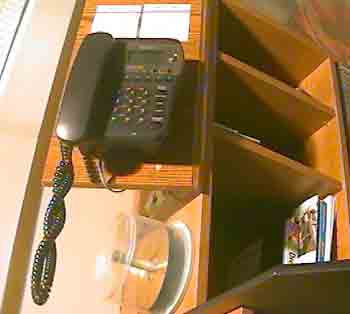 On the other side I added a swinging door witha phone mounted onto it. this keeps it out of the way when not in use, but also make it comfortable when it is in use.
I attched it with 3 small hinges.
I put the screwed the CD spindle to the side over the computer. No point in wasting the shelf space on it.
On top I added a CD rack since the small one it came with only holds like 20.
The top itself was added on as well. This was a major improvement addlong alot of extra space over the monitor was otherwise was being wasted.
Notice on the right is my little kitty.
Say Hello to My Little Kitty. I got her at my last job. One night someone brought me a kids meal, and this was the toy. I always kept it at work, and people slowly started adding the stickers. I added some ganja, since she always looked like she was tripping anyways.
Underneath on the left I added a small shelf.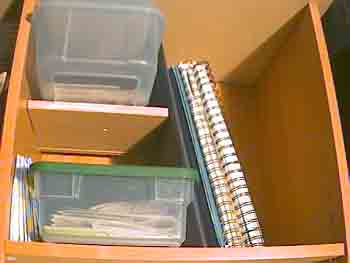 On the right I added the other small shelf, while still being able to put magazines and stuff under there.
This is the center shot of under the table. I added the long arcing shelf. this way I have it for storage, but It's not in my way, where I'll kick it or something. Also under here are 4 smaller shelves underneath that, which i have running down the sides. I also have my Steering Wheel pedels velcroed onto a wooden stand I made, which in turn is velcroed to the subwoofer.
For the most part it's pretty sturdy. I don't use it very much, but when i do, this simulates the comfortable driving angle of a normal car.
So, those are the mods I have made over the past few months. Honestly, it's not as cluttered as it looks, since everything has it's own place. Although, when I see peoples case mods, in the backgrounds, thier computer tables are areas that I could never work. Those tables are so barely put together with old tables and crates that there is barely enough room for the keyboard and mouse.